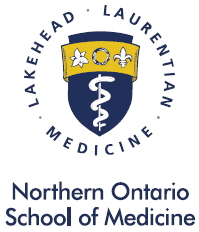 Mental Health Law – for Residents of Psychiatry
The Northern Ontario School of Medicine operates and supervises programs apart from its core program of a 4 year degree in Medicine. One of these is for would be Psychiatrists. This is a 5 year program of residency in psychiatry.
Michael Hennessy was honoured to be invited to present a 3 hour seminar to the small group of residents on Mental Health Law. While the actual site was at the NOSM building at the Laurentian University campus in Sudbury, a number of students at the Thunder Bay campus were linked in to a 2 way teleconference.
Topics covered included an introduction to the Canadian court / judicial system, the essential statutes governing mental health law, where to locate key resources, and the role and function of the Consent and Capacity Board (Ont.).  Some attention was also given to the legal foundations for involuntary admissions of patients to psychiatric facilities.
The interface between law and psychiatry is one that has been a genuine interest for Hennessy for the past decade – coinciding with his time as a Member of the Consent and Capacity Board. It is a meeting of two seemingly distinct and separate fields of study, yet they come together routinely in the mental health field.
In preparing for the presentation, the complexities of the legal component were never far from top of mind. Looking for simplified general propositions to pass along, invariably brought into focus the exceptions and caveats. Hennessy came to appreciate that teaching the legal aspects ought to be done within the context of a full program approach. That is: outlining the appropriate teaching objectives over a series of presentations that would take place during the 5 year program. The residency program for these learners is only in its second year, and is evolving. In time it may be hoped that a more comprehensive, long term approach will be developed for these talented learners.