Christmas 2014 – New Years 2015 Schedule
Categories: Uncategorized
Seasons Greetings to our clients, colleagues and friends, from Michael, Amy, Nancy and Rob at Hennessy Law.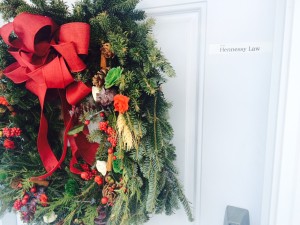 We are taking a break at the office. Beginning at lunch on Christmas eve – Wed. the 24th, the office will be closed until Monday morning Jan. 5th, 2015.
Of course we will still be able to receive e-mails and fax communications, but we won't be responding till the New Year.
If there is some urgent matter, it is best to contact Michael Hennessy on his cell phone 705-665-6911.
To our clients, this is a chance to express our appreciation for your patronage over the past year. Thanks for your support, and we wish you and yours a comfortable and cozy festive season.